Gone are the days when the kids' baby beds were simply crib-like furniture. With the changing times, the variety of designs and materials has helped them to make it appear magical for the infant. However, during the initial days of parenting, knowing how to soothe your baby is the key point for your survival. Swings, cribs, and other such items are the most essential for parents, thanks to the features such as to-and-fro movement that can help your baby to fall asleep in no time or soothe their moody behavior with recline positions, sound options, etc.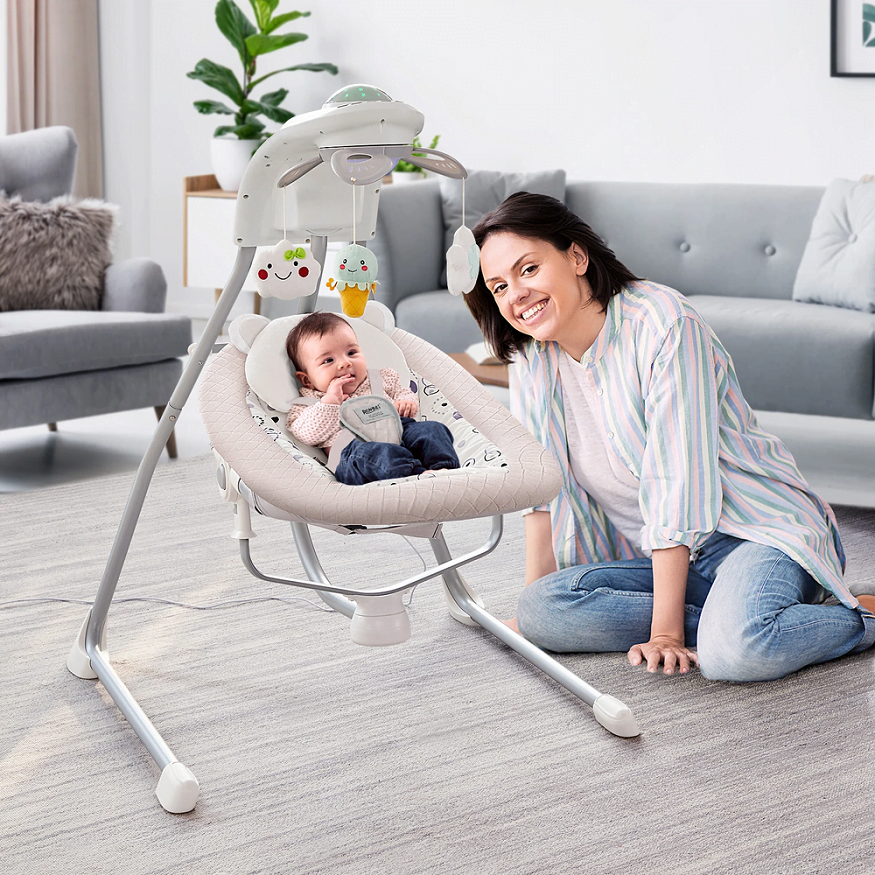 Thus, for all the new parents or parents to be, this article will brief you about some adorable baby bed options to help your kid feel relaxed at home.
1. Conventional Wooden Crib Bed:
However modern the era becomes, there are times when you just love how the conventional items in your time made the beautiful memory of your childhood. A wooden crib is one such piece of furniture where there is no modern touch or features but keeps the baby safe, comfortable, and best during their sleep at home. With the swing option available in some designs, it can help you put your baby to sleep with some lullaby being played in the background.
2. Simple Sway Swing:
With the busy lifestyle that we all are going through, having a baby is a blessing that comes with plenty of responsibilities and multitasking. To give a perfect solution to keep your baby jolly during busy times, electronic sway swings fit comfortably in any space given. It also has a swaying motion and two-speed vibration settings to put your baby in comfort. Thus, when you are busy attending to your office calls, such a swing will keep the baby snug and secure with its deep plush seat with head support.
3. Portable Swing Bed:
Yet another comfortable baby bed option for busy parents on the go is the portable compact swing bed. They are lightweight and can be easily transported where it is needed. It has an adjustable volume control and parent-controlled timer settings that help the baby listen to music while playing and napping. It also has a toy bar hanging for the baby to play with.
4. Swing and Rocker Together:
Two-in-one items for babies are one of the smart buys by parents. In such baby swings, you can even remove the swing seat and form it a portable rocker with a carry-on handle, that helps the baby to get transported from one to another location. One can keep the baby in comfort, thanks to the adjustable swinging speed and directions. Therefore, if you want a bed, a swing, and a carrier for the baby, such an option is the right pick.
5. Bluetooth Enabled Baby Swing:
While the baby has enough energy, you are utterly exhausted as parents, still, you can keep your baby entertained and relaxed by taking your tech-savvy benefit to another level. Bluetooth-enabled baby swing comes with a remote control that helps the songs to preload, the seat sways at five different speeds and can also be connected to your phone via Bluetooth to play your baby's favorite lullaby. Thus, you don't need toworry about buying such a baby swing, and it can be folded down flat for storage when not in use.
While parenting is a marathon, and not just a sprint, having such baby swings will be highly convenient for taking enough needed breaks between soothing your infants.